Twitter has been all abuzz since The Athletic published yesterday's article, "Why Army football is converting Jeff Monken's triple-option offense to the shotgun." Unfortunately, the article makes it sound like the Black Knights are going completely away from the triple-option when, in fact, what they're really going away from is cut-blocking on the perimeter. But they're doing it by installing a completely new shotgun-based offensive system, and there are lots of folks deep in their feelings about it.
The article makes this clear, but I know most of you won't read anything below the fold, so let's start with the obvious — Head Coach Jeff Monken didn't want to go away from the offense he's been using nearly his entire career. However, the rules have changed, and for better or worse, he had to change with them. And look, Coach Monken has had more than enough success over the course of his career to have earned the benefit of the doubt on this. I mean, the folks who seem most upset about it seem to be high school coaches who are devoted to the old school triple. I get that, but…
Guys. If this man is your guiding light, then he's your guiding light. Ask yourself why that is and whether or not you trust his judgment on football stuff.
Kicking off the final week of Spring Ball! #GoArmy pic.twitter.com/P14vIyEWdH

— Army Football (@ArmyWP_Football) April 18, 2023
On its face, Army's offensive production was more than a little wacky last year. The Black Knights had decent success springing guys on outside misdirection plays in 2022, but they struggled in their signature short-yardage situations, and they threw the ball a lot, at least by Army standards. So the offense was explosive last year, which was awesome, but it was nowhere near as consistent as it had been previously. This wound up mattering a TON. Friends, Army had a 300-yard passing day against C-USA Champ UTSA and somehow still lost. We also saw the Black Knights struggle to mount almost any offense against their service academy rivals, to the point where they ran fully *17* Quarterback Draws against Air Force and then went to a hybrid shotgun approach against Navy.
Bottom line, Army tried to beat both Air Force and Navy by using a combination of quarterback runs and their passing game, and that almost worked — twice. They needed at least one more Pass Interference call against Air Force and maybe a little magic besides. Against Navy, they had the right play called at least ten times and got the look they wanted, but they still couldn't complete enough of their passes.
That was a real problem.
WE'RE SINGING SECOND!!#GoArmy | #BEATnavy pic.twitter.com/ADyHnMhtz3

— Army Football (@ArmyWP_Football) December 10, 2022
Rather than talking about what's not going to be in Army's offense next year, let's talk about what's new. The biggest thing is new OC Drew Thatcher, who brings with him what looks to be a somewhat different approach to coaching overall. Which is to say that Thatcher is a guy who's famous for developing quarterbacks. Thatcher famously worked with XFL star Jordan Ta'amu back in the day, and friends, his work with UNK QB TJ Davis speaks for itself.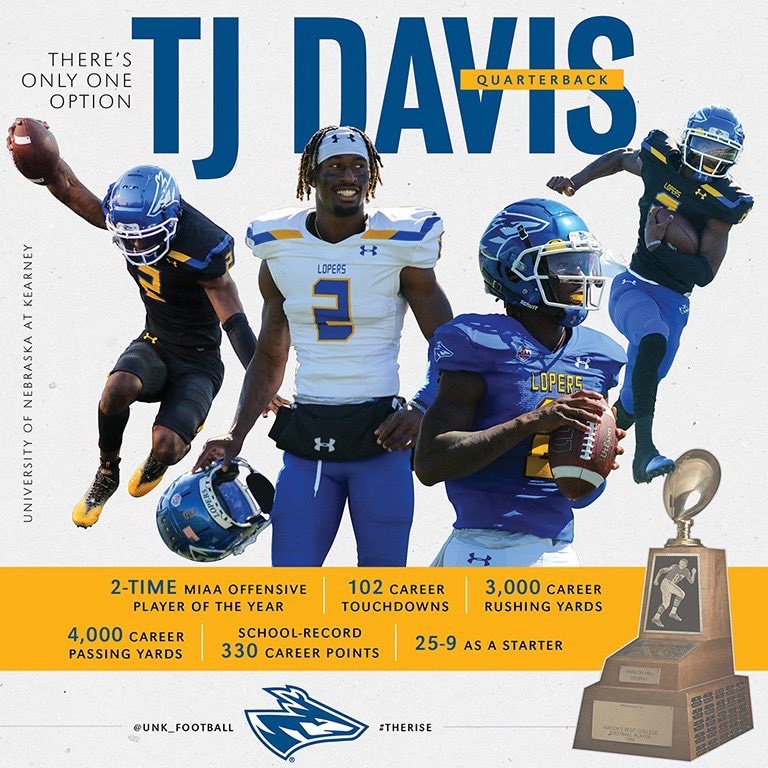 Friends, we might see some real improvement in QB development in 2023. I mean, imagine hitting all those passes against Navy.
So. Everything's gonna be all sunshine and roses in 2023, right?
Obviously, we don't know that yet. However, there are plenty of reasons to be hopeful. First, the Black Knights already have a starting quarterback in QB Bryson Daily, and in fact, we've already seen him make some big plays as a backup. Now Daily has an offense led by a guy who's famous for developing quarterbacks. That's good. Army also returns four starting O-Linemen and plenty of experience at running back plus at least one excellent wide receiver in WR Isaiah Alston. We might actually see Alston catch some passes this year! Add in the fact that the offense seems to be a little ahead of the defense in Spring Ball despite the implementation of the new system, and I think we have enough reason to get excited. Even really excited!
The Athletic's article compares Army's new offense to Coastal Carolina's. This does not strike me as a step backwards. I mean, the world changes, and we either change with it, or we die. But I haven't seen it myself yet — hopefully that'll change Friday night — and even if I had seen it, I'm more of a statistics/trend analysis guy.
What can you do?
It's GAME WEEK!

The Spring Game is THIS FRIDAY at 7 PM at Michie Stadium and is FREE and open to the public!#GoArmy pic.twitter.com/5LOjpsGCaO

— Army Football (@ArmyWP_Football) April 17, 2023
What I've heard is that the offensive principles are the same, but that the execution is different, and that the Black Knights will be relying a lot more on their tight ends. Again, this does not strike me as a step backwards. A lot of modern football is using tight ends to create mismatches. Indeed, Army already has some talented tight ends on the roster plus two talented tight ends committed in the current class with at least one more trying to choose between Army, Yale, and Penn State. I personally have a lot of emotions tied to that particular choice — I myself chose USMA over Harvard and Tennessee as a recruited swimmer — but at the end of the day, you have to decide whether you'd rather shoot Tank Table XII or work as a corporate stooge lawyer1. It's actually a tough choice. Emotions aside, though, it's exciting, and my man is gonna be fine regardless.
Anyway, come see for yourself. The Spring Game is this Friday at 7 pm, and if you can stick around, Army Women's Lax will play Navy the next day. This ought to be an exciting week!
It's Gameweek: Beat Navy Edition #GoArmy #BeatNavy pic.twitter.com/vjNVqjufc7

— Army Women's Lacrosse (@ArmyWP_WLax) April 17, 2023
Go Army! Beat Navy!!!
PS: Go read today's Baseball Preview. It's awesome!
1Full Disclosure: I would never choose any state school over Yale.