Army Football opens the season on the road at Louisiana-Monroe tomorrow night. If you've read James' preview article, then you may already have some idea of what to expect from the WarHawks. Here's what the AFF Crew thinks Army needs to do to come out with the victory.
The week we've been waiting for 🤩 pic.twitter.com/fWsu60WNsB

— Army Football (@ArmyWP_Football) August 28, 2023
1. Limit Negative Plays
Perhaps the biggest challenge Army faces in switching from an under-center flexbone formation to the shotgun triple-option is the increased potential for negative plays. This becomes even more of an issue when we consider that every aspect of this year's blocking scheme is new. This O-Line attacked defensive linemen in a very different way out of the flexbone.
Army Head Coach Jeff Monken hates negative plays with an abiding passion. They kill momentum and stop drives dead. As we watch this game, Army's ability to get consistent positive yardage is arguably their most important key to victory this weekend.
2. Contain QB Jiya Wright
ULM QB Jiya Wright is a good athlete who's supposedly more of a runner than a passer. ULM will no doubt look to throw the ball — a lot! — but they'll probably do it out of standard Read-Option set, using Wright's abilities as an athlete to set up both downfield throws and looks for their running backs, too.
We saw lowly UMass win a game at New Mexico State just this past weekend based largely on the scrambling ability of their quarterback. If Wright can keep the chains moving with his legs, then the rest of ULM's offense will probably work, too. Army therefore needs to contain Wright, keep him in the pocket, pressure him, and then force him to distribute the football off-schedule and under duress.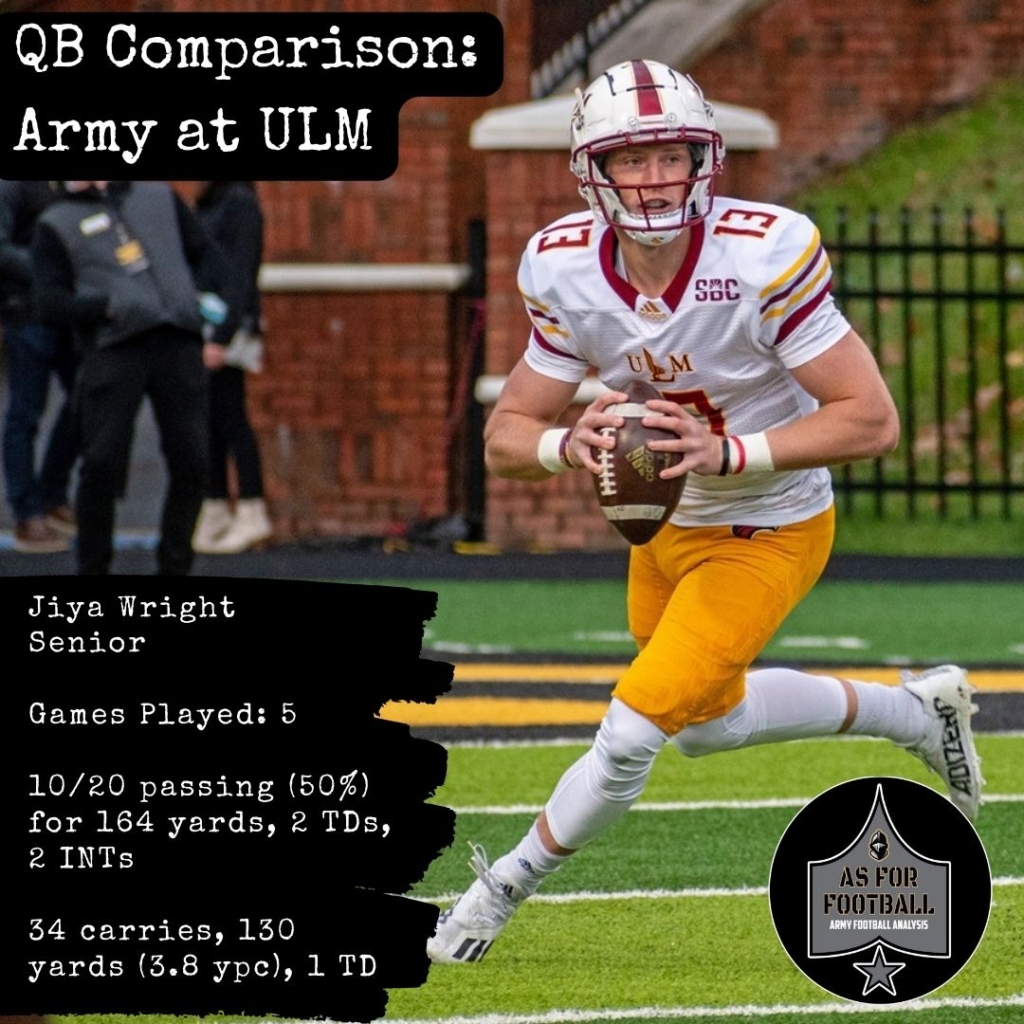 3. Maximize Opportunities Through the Air
We don't know what the game plan looks like for tomorrow night. We do know, however, that Army will run the ball, and that this will set up some opportunities in the passing game either down the field or to receivers free in space.
Army needs to take advantage of these opportunities!
The Black Knights do not need to throw a ton, but ULM will no doubt want to force the Black Knights to prove they can throw the ball and actually complete passes.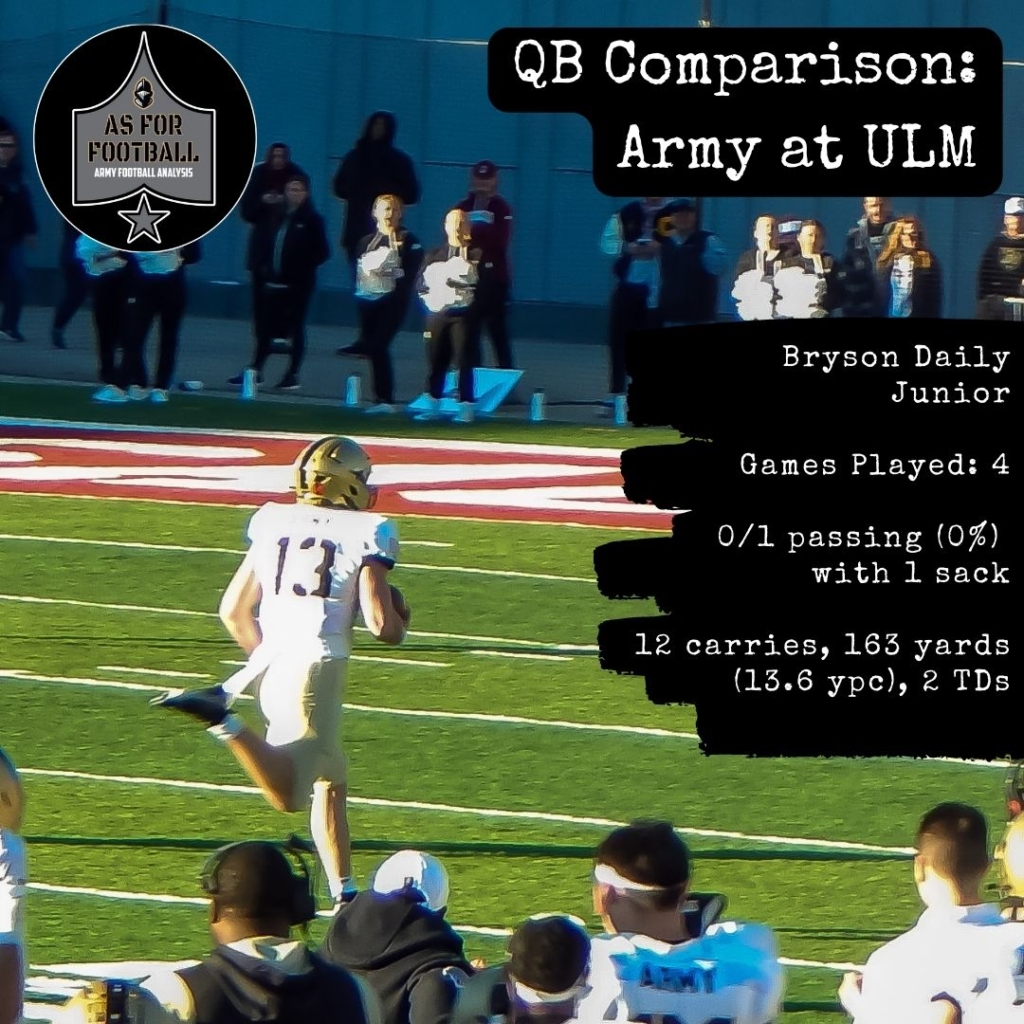 4. Manage the Heat
It's going to be HOT tomorrow night! Current weather forecasts call for temperatures in the upper-80s to lower-90s with plenty of humidity. This creates a problem because we've had unreasonably cool weather in New York — which we've all loved — but which has done little to prepare the Black Nights for real Southern weather. Playing not only on the road, but also in blistering heat, will cause some issues.
Guys are going to need to force hydration, and the staff had better have a plan for cramping. Like it or not, there's just no way the Army Team could've adjusted to the temperatures they'll see in Louisiana tomorrow.
5. Finish Drives
Navy lost to Notre Dame because they got out-matched. But the game turned into a blowout because the Mids couldn't finish drives despite moving the ball fairly well in the early going.
Army needs to finish. In the past, the Black Knights have been automatic with the Fullback Dive or Quarterback Follow at the goal line. They now need to prove that they can score touchdowns in the Red Zone out of their standard shotgun set in those same short yardage situations.
The Black Knights are not going to win this game by kicking field goals in the red zone.
Updated: Official #ArmyFootball depth chart for Saturday's season opener at Louisiana-Monroe

Freshman center Brady Small trending toward first start in college debuthttps://t.co/DMZBqgBBcs

— Sal Interdonato (@salinterdonato) August 29, 2023
Here's hoping for an exciting contest with plenty of Army touchdowns.
Enjoy the game, friends!
Go Army! Beat ULM!!!
Cover image via USMA Flickr.