Welcome back to one of my favorite As For Football productions and what got this all started a couple years ago… The Superlatives!
As mentioned in Cadet Issue's 21 Ways to Be a Responsible Army Fan Series, this "should be a part of your Army Football AAR."  Also, if you haven't read our recap article yet you can check that out here.
If this is the first time you've made it back to As For Football since the historic 2018 season, let me get you up to speed. We are giving away Army Navy Tickets, offering premium content now for Patreon Members, have launched a new podcast that covers all of CFB, and are running a new weekly NCAA Video Game Series on Youtube. 
— The Ultimate Army-Navy Experience Giveaway
— Patreon for Premium Content
— CFB Roundtable (via Stitcher, Spotify, or iTunes)
— AFF's YouTube Channel
But enough about the other awesome things we do, it's time to get over-hyped with Superlatives!
The Army Team suffered a little indigestion on Friday Night. That Dong Fong Rice we picked up from Grant Turnaround didn't go down as easily as we thought it might. Rice shouldn't cause indigestion right? Well the MSG — the Rice Defensive Line — left a burning feeling in our stomachs that lasted well into the next morning. Luckily we picked up some Prilosec OTC from the Cadet Store. It came in the form of watching so many other teams struggle to win on Saturday. As our stomachs began to settle, being 1-0 started to feel pretty good, especially when so many ostensibly good teams aren't.
Sorry Tennessee.
Superlatives
The Defense – Cadet Casual
Forget the new Black and Golds! You boys will be rolling into Spirit Dinner swagged out in Khakis and Sperry's. Make your Classmates envious as you walk about the historic Banks of the Hudson River looking like a Frat Pledge.
Holding Rice to only 7 Points and starting as the #31 defensive (total yards) in the nation is incredible. Just like in my video game simulation, the BAD BOYS are back! Sunday Brunch and Weekday Grant Hall dates just got a whole lot sweeter. Enjoy!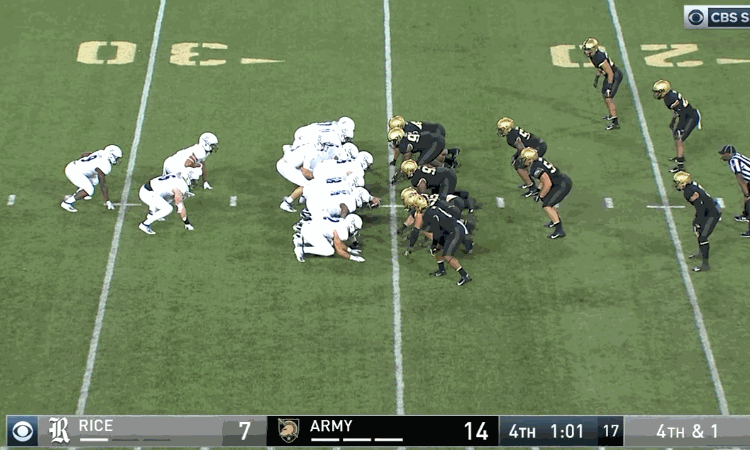 Kick Coverage Team – Cowboy Collars
That's right! Ryan Parker laid the wood on the opening kickoff as his Cowboy Collar secured his neck. Now the entire unit gets them. Lock down coverage and massive hits were delivered on both kickoffs during the game, making all of you worthy of cowboy collars.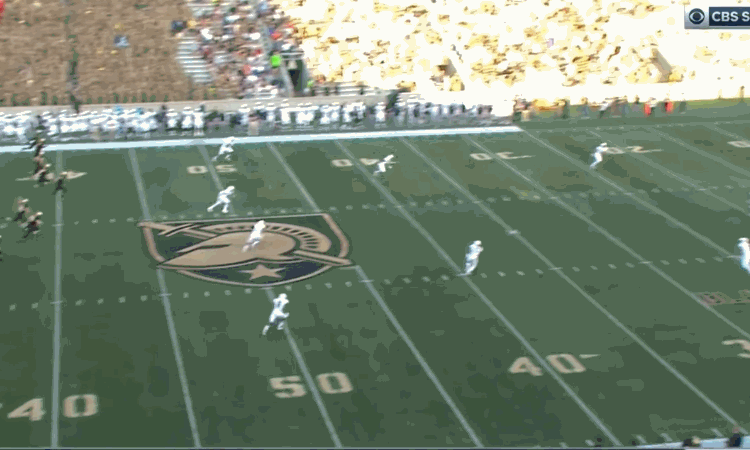 Offensive Line – Mandatory A.I.
Your instructor might not have suggested Additional Instruction at the start the semester, but after a dismal performance on your first WPR…  Well to put it lightly, your attendance is now highly encouraged.
I am a huge fan of the MOB, but you all got beat at the point of attack last Friday. For a group that entered the season with over 40 combined starts and ranked in several Top 10 preseason lists, you know as well as I do that your performance wasn't close to meeting the standard. I know you boys will get it fixed, but these wouldn't be the superlatives if I didn't give people a hard time.
Good news is that Coach Davis and Tresey will provide some food at the study session, I'm sure.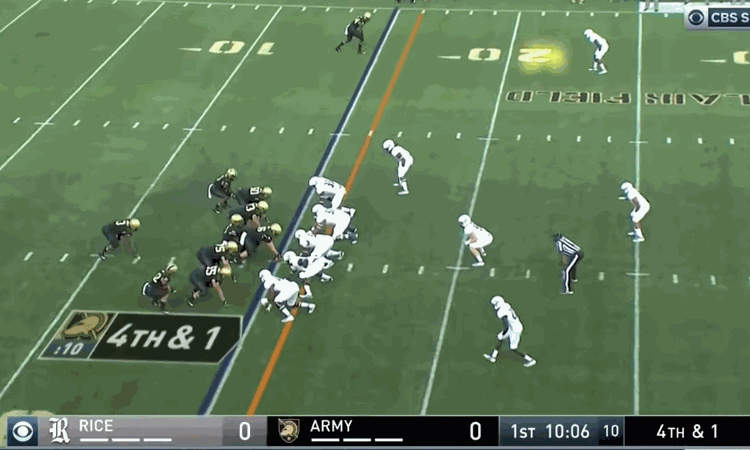 Will Harrison (Rice PK #25) – Army A Club
Welcome to the A Club! A donation has been made in your name. You join a long line of kickers that love the Army Team. If you had hit both of your missed field goals, then Friday would have been a completely different game! But you didn't, and Army never trailed as a result.
Thank you for your service.
I would tell you that you're entitled to purchase Army Navy Tickets with your A Club membership, but those are already sold out. You'll have to enter our giveaway instead.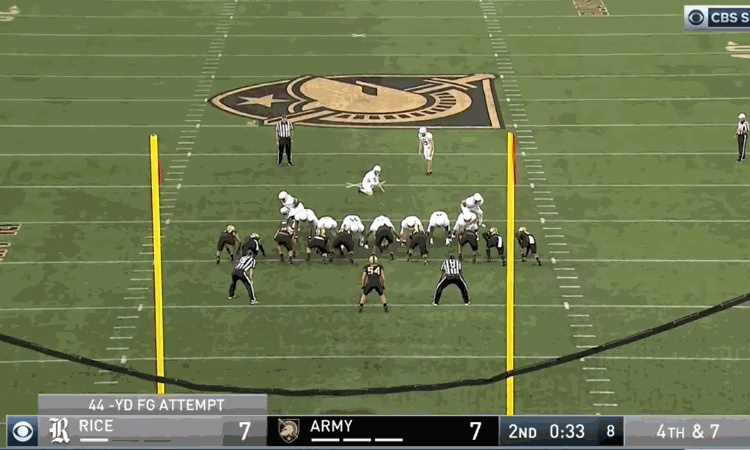 DBs – Cadet Observation Report
All I can say is that I SEE YOU! This group balled out from Javhari Bourdeau's pass break up at the start the game to Jaylon McClinton's finishing play. As a result I have submitted a COR for all of you. Currently it is neutral report, #Don'tOverpursueTheRunAndLeaveTheCutbackOpen. If this talented group can slow down the freaky Wolverine Wide Receiving Corps next week I will upgrade it to positive.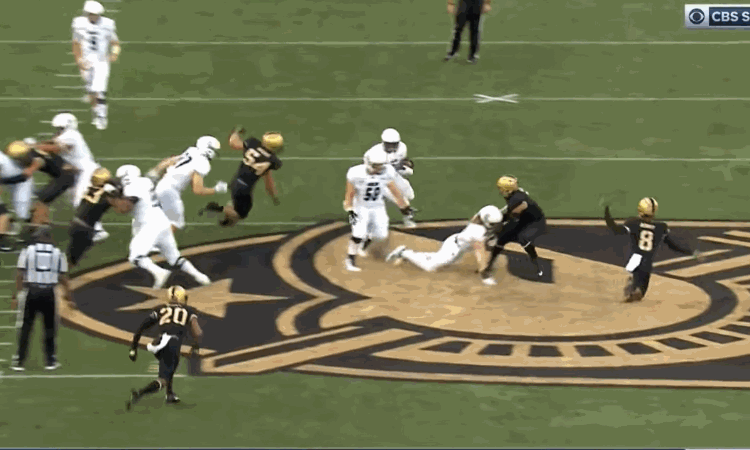 Kelvin Hopkins Jr. – Player of the Week
Talk about putting the team on your back. You made holes when there were none, and you put your body on the line. I saw the look on your face on that last drive. You said "We aren't not losing this game."
That game winning drive was all about you and your will to win.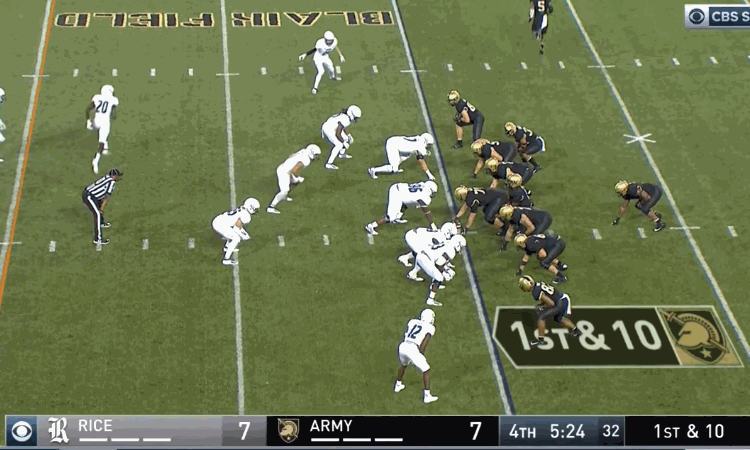 I also love that you weren't satisfied with the team's performance and that you are going to hold this team accountable. That's the kind of Platoon Leader I want. Sorry Jake Lauer…
Camera Guy – Goat of the Week
I know it's Week 1 for you, too, but C'mon Man! You literally missed the second longest Army play of the game. Army fans everywhere had to hold their breath as we waited to find out the result of the play. Just tell me if I passed my TEE already!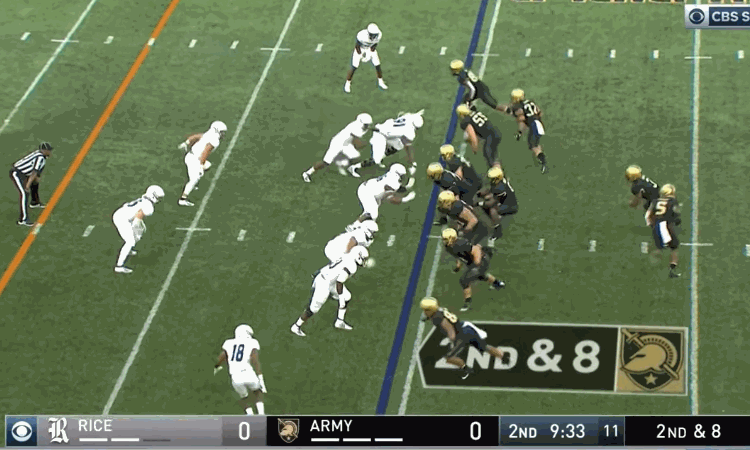 But that's not all folks! This year I wanted to add a section at the end to highlight other notable plays and performances. Just because you didn't see your name next to a superlative, doesn't mean that you didn't deserve one.
Enter the O-Club.
So you don't want to make the trip down the hill or fight the crowds at the First Class Club. Maybe you're not even a Firstie. Well Cadet, conveniently located on Cullum Road overlooking the Hudson River is the Officer's Club.  Welcome!
O-Club
Although the Defense already got an award, Cole Christiansen and Elijah Riley are invited to the O-Club too. They were physical, getting after it everywhere on Friday.
Did anyone see the Ankle-Jumping-Over-The-Pile-Tackle? I did!
Cole blitzed all night and got held on what seemed like almost every play. I feel good about Captain America vs. Shea Patterson in the QB-Spy look next week.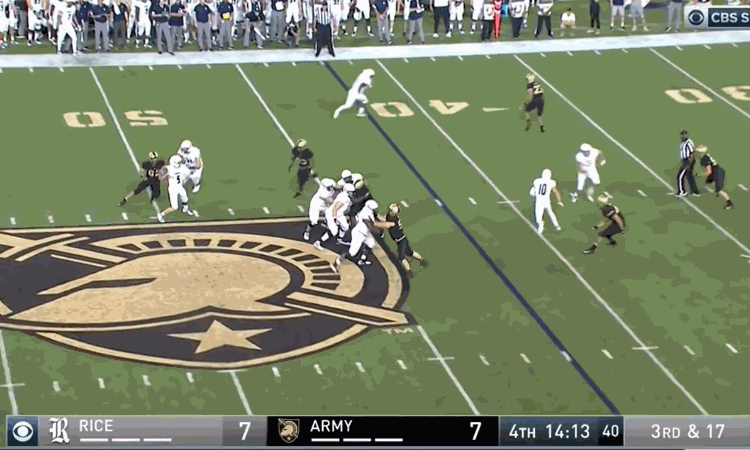 Artice Hobbs IV also showed out with an awesome reception and massive truck stick to gain a critical first down. The 1-2 Hobbs-Walker punch will be deadly this year.
We will provide more reaction and analysis from the game this week as well as a Michigan preview on the Army Football Show (via Stitcher, Spotify, or iTunes) this Thursday.  The Night Before the Night Before!
Beat Michigan!
Rest.