It's that time of the week again.  Let's give out some fake awards!
After the Michigan hangover, we were all looking for a good rebound game.  Everyone, us included, was hoping Army would leave the Alamodome with some serious roadrunner roadkill.  However, much like the Looney Tunes, UTSA put up quite a fight.  There were highs and there were lows.  But, it wasn't the dogfight we initially feared going into halftime.  If you haven't read Danno's Game Recap, go check it out!
We responded the Army way.#GoArmy pic.twitter.com/vshG5QpdB4

— Army Football (@ArmyWP_Football) September 15, 2019
Before we get to the Superlatives, do you know what we have going on this year?  We are giving away Army Navy Tickets, offering premium content now for Patreon Members, launching a new podcast that covers all of college football, and running a new weekly NCAA video game series on YouTube. 
Check it out:
— The Ultimate Army-Navy Experience Giveaway
— Patreon for Premium Content
— CFB Roundtable (via Stitcher, Spotify, or iTunes)
— AFF's YouTube Channel
Now, let's get to the Superlatives!
Superlatives
Discount Double Cut – AFF Play of the Week
If you don't like downfield blocking, then you might be watching the wrong team.  Army is all about getting on guys legs while the ball runs right past them.  This week's play is no exception.  Yes, it's a touchdown by SB Kell Walker.  But that's not the point.  Notice how SB Artice Hobbs IV put TWO defenders on the ground so that Walker could get the edge.  Without that block, the linebacker is able to scrape across the top and challenge Walker at the line of scrimmage.  We love #KneeBoneSoup!
AFF Play of the Game: @twotwo_iv's DOUBLE CUT BLOCK allows @Kell_Neno to get the edge for this key TD in the 4th Quarter! #KneeBoneSoup #BeatMorganState pic.twitter.com/rmRxFK0uNC

— As For Football (@asforfootball) September 15, 2019
Jake Covington – IOCT Tires
Jake, you had great presence of mind to pick up CB Javhari Bourdeau's forced fumble, but you've got to keep moving those feet if you want to see the end zone!  We were pulling for you!  Granted, S Cam Jones didn't do you any favors by stepping on your heels.  But he was a little excited…
Anyways, we're sending you to Hayes gym to put you through the old IOCT tires.  Come out of the low crawl.  Don't get so focused on the pommel horse!  Get those knees up and you'll make it all the way.
With the way the Defense is playing, I'm sure you'll get another shot at carrying the ball soon.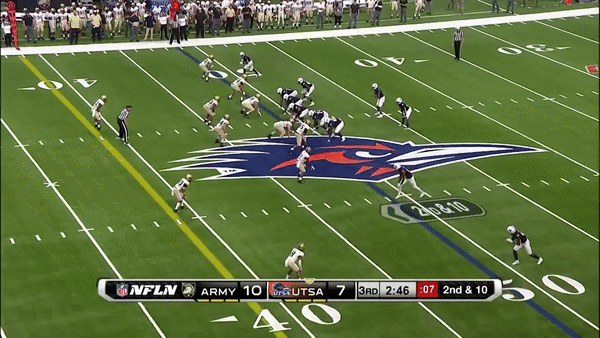 UTSA O-Line – Comm's Hour Drill
Y'all were struggling with the snap count, huh?  Don't worry, we understand.  Clapping can be confusing.  But it's not a good look when the O-Line can't figure out the cadence.  It derails the offensive momentum.
We thought you all would benefit from some good old fashion military discipline.  Report to Central Area after lunch for Comm's Hour Drill.  Marching around in low quarters while TAC NCO's yell and clap at you should help with your false start problems.  And if not, well, you got a taste of some of the most effective military training the United States Military Academy has to offer.
#IgottahavemoreDrill
Kell Walker –  TAC Officer Sit Down
Kell, you are so exciting to watch!  This week you had 80 yards and 2 touchdowns on just 5 touches.  We want you more involved.  You're fast, explosive, and dynamic with the football.  Maybe Brent Davis is saving you for later in the season (…doubtful).  All I want is to see the ball in your hands!
We weren't the only ones who noticed your impact.  Your TAC Officer wants to sit down and discuss how he can get you more involved in the Company.  He believes your dynamic leadership style will have a huge impact next semester as a Platoon Leader or a Company Commander.  Either way, he has a vision to improve your leadership development experience.
Bottom Line: Give the ball to Kell!
OPENING DRIVE TD! ?@ArmyWP_Football RB Kell Walker finds the end zone early ?

?: @ConferenceUSA on NFL Network pic.twitter.com/LlEQs9fzfv

— NFL Network (@nflnetwork) September 14, 2019
Cam Jones & Malkelm Morrison – Invitation to Ike Hall Wrestling Smoker
Wow!  I thought our taste of WWE was over after last week's FOX preview, but you guys tag teamed for a signature smackdown on Blaze Moorhead, and if that's not a wrestling name, I don't know what is.  I expected someone to hand Malkelm Morrison a microphone after the play.
That's how you bring the pain, brother!
You guys are invited to compete in this year's Ike Hall Wrestling Smoker.  It's very similar to the boxing smoker, but with more spirit dinner garb.  Join plebes as they fight with pugil sticks and lockboxes in pillowcases.  I'm pretty sure you guys will be the champs!  Woooooooo!
Jabari Laws – Player of the Week
This one's no surprise.  You found out on Thursday night that you would be getting the start.  Then you showed up to play!  Gaining 137 yards on 23 carries with an explosive sideline touchdown in the second half, you put our minds at ease about the future of Army Football.  Not to mention that you went 2/2 (100%) through the air.  You have to makings of another big-time dual threat quarterback.
This probably doesn't come as a surprise to Army fans.  Still, it's completely deserved.  Laws proved why Kelvin Hopkins Jr. described him as the player he is most excited to see play.  He lead the Army Offense on the road against a tough opponent, and it was not easy.
Looking forward to seeing more from Jabari Laws!
QB JABARI LAWS RUNS FOR 41 YARDS‼️@ArmyWP_Football capitalizes on a turnover to get the TD ?

?: @ConferenceUSA on NFL Network pic.twitter.com/vOGYGYGXEl

— NFL Network (@nflnetwork) September 14, 2019
NFL Network – Goat of the Week
After signing up for yet another free trial from a streaming site, we was able to watch our beloved Army Team in the Alamodome.  It was an interesting channel for college football but hey, we're not complaining.  But then the Brave Old Army Team got shafted after standing behind UTSA for their Alma Mater.
Wasn't it military appreciation day?  Can't the NFL Network keep their cameras rolling long enough to cover West Point's Alma Mater?
Don't worry, we still sang second.
Thankfully CBS Sports understands the importance of postgame tradition.
https://www.instagram.com/p/B2aW33fhm8z/
***
O-Club
The O-Club gets crowded this week!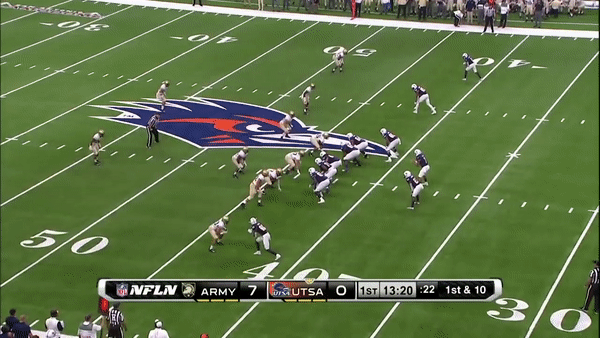 LB Cole Christiansen, CB Elijah Riley, and CB Javhari Bourdeau all get in.  Their presence on defense is undeniable!  Christiansen led the team in tackles.  Riley remains deadly on the corner blitz.  Bourdeau forced a fumble and had a pick playing only the second half.
FB Connor Slomka and C Peyton Reeder also get in.  And QB Jabari Laws gets in just because he isn't allowed in either the Cow or Firstie clubs.  Slomkamania continues with 59 yards rushing and 1 touchdown on just 17 touches.  As for Reeder, his leadership at center for the O-Line is obvious.  Keep up the good work and stay healthy!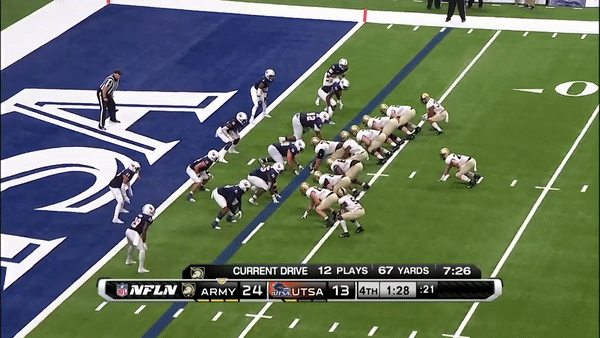 Lastly, K David Cooper gets in for stepping up and delivering a 40-yard field goal.  We still believe in Army's field goal team!
That's all, folks, until next week!
We'll provide more reaction and analysis from the game this week as well as a Morgan State preview on the Army Football Show (via Stitcher, Spotify, or iTunes) this Thursday.  The Night Before the Night Before!
Beat Morgan State!
Rest.