It's been a long, strange trip since Army Football last played, but now — finally — it's game week.  This may not be the season we were expecting, but it looks like it's gonna be a great season nonetheless, and for that, I think we should all feel extremely grateful.
Army Football hosts the Middle Tennessee State Blue Raiders in Saturday's home opener, and at least to my eyes, the Black Knights look hungry, rested, and ready to get back to playing tough, smashmouth football.  Here's hoping they can start the season on the good foot, running with power and imposing their will on a badly shellshocked opponent.
We're only days a way from kickoff!

Caught up with Amadeo West and Christian Anderson following Tuesday's practice. #GoArmy pic.twitter.com/xxg8yE6dAA

— Army Football (@ArmyWP_Football) September 2, 2020
Army Black Knights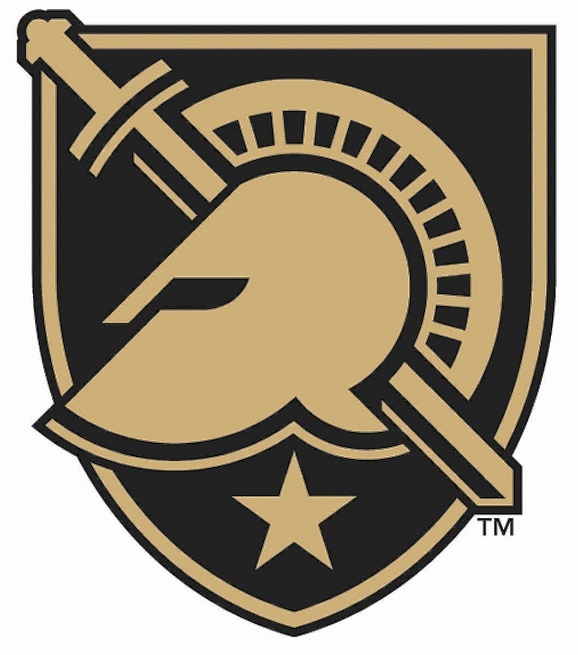 I said on the podcast that Army Football is looking for some playmakers.  That's true in a sense, but in looking at the depth chart, there's also a lot more experience on this team than I either remembered or expected.  
Starting QB Christian is a perfect example.  Anderson played in a whopping six games in 2019 with exactly one start — at Army-Navy.  He went just 7/23 passing (30.4%) for 135 yards and a touchdown, but he carried the ball well, putting up 429 yards and 4 touchdowns on just 67 carries (6.4 yards/carry).  That's outstanding.  As a third-stringer coming off the bench, it's an open question how many practice reps Anderson got in 2019.  He's got plenty of talent, however, and he's put on some muscle mass over the offseason.  He's also now gotten enough time under center that the game itself has finally started to slow down for him.  With all of that, we ought to see an exponential improvement, not just in his ability to run the ball but in his ability to run the complete offense.
We see similar stories all over.  FB Sandon McCoy is back, now unquestionably the man at fullback.  McCoy had 134 carries in 2019 for 576 yards (4.3 yards/carry) and 10 touchdowns.  If all goes to plan, McCoy could potentially double those numbers in 2020.  SB Artice Hobbs IV and WR Cam Harrison also return in 2020.  Both are proven playmakers, but it remains an open question who will step up beside them.  Along the offensive line, current projections show no less than four firsties!  RT J.B. Hunter, RG Peyton Reeder, LG Mike Johnson, and T Luke McCleery.  They're joined by a new starting center — 6'4", 290 lbs. yearling Connor Bishop — along with returning cows Dean Powell and Noah Knapp.  Powell and Knapp provide badly needed depth and experience along the line's interior.
Cow SB Brandon Walters and plebe WR Isaiah Alston are currently slated to start alongside Hobbs and Harrison.  Folks, when was the last time you saw a plebe wide receiver start in his first game at Army?  Alston stands 6'4", 200 lbs., and has the best hands Army's seen since Edgar Allen Poe played for the Black Knights.  If you've listened to the podcast, you know that we're also looking for QB/SB Tyhier Tyler to make an impact this season sooner rather than later, and of course, yearling FBs Jakobi Buchanan and Anthony Adkins flashed tons last year.  Buchanan is currently listed third on the depth chart behind McCoy and cow FB Cade Barnard, but I'll be surprised if we don't see a full four-fullback rotation.  Any one of those guys could show up big this Saturday.  McCoy and Adkins both have more top-end speed than Army typically gets at fullback while Buchanan is a six-foot, two hundred sixty-pound wrecking machine.
GET ?#GoArmy pic.twitter.com/AnFV25a8ye

— Army Football (@ArmyWP_Football) August 13, 2020
Army's defense also returns a good amount of experience, though they have seven new starters and some new terminology for what appears to be slightly different version of their base 3-4 Defense. Cow NG Nolan Cockrill is slated to start alongside DEs Kwabena Bonsu and firstie defensive captain Amadeo West.  Bonsu in particular was outstanding in 2019, while West has the potential to be Army's best player if he can just stay healthy this season.  At linebacker, playmaking cow Arik Smith returns alongside firstie Jon Rhattigan inside while firstie Jeremiah Lowry (the "Dog" linebacker) and cow Malkelm Morrison (the "Apache") man the outside.  Morrison has moved up from the secondary to play at Apache, so one wonders if this isn't actually a hybrid "Big Nickel" defense.  That would sense, especially considering how much MTSU throws the ball.  
Army has a decidedly young secondary, but most of these guys have already seen significant time.  Cow FS Cedrick Cunningham is the old man of the current starters, alongside yearlings SS Marquel Broughton and CB Jabari Moore and cow CB Julian McDuffie.
Firstie K Landon Salyers is slated to handle all kicks this season along with cow P Zach Harding.  Salyers has a strong leg, but he hasn't kicked field goals regularly since 2018, when he went just 1/4 with a make of over 40 yards.  That doesn't mean much — good or bad — in 2020.  Tyhier Tyler and Tyrell Robinson are currently set to return kicks. 
FYSA #BeatMTSU https://t.co/W6QdTLM3XZ

— As For Football (@asforfootball) September 1, 2020
MTSU Blue Raiders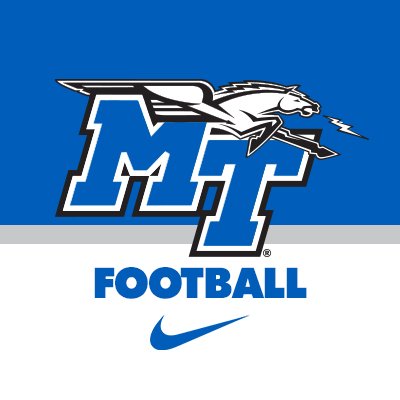 Middle Tennessee State went just 4-8 in 2019, 3-5 in Conference USA-East.  This was a disappointing season for an oft proud program, especially coming off a year in 2018 in which the team won its division and fell just two points short of winning its conference as well.  The Blue Raiders beat good programs in Florida International and Marshall in 2019, but they also dropped games to Charlotte, Rice, North Texas, and Florida Atlantic.  Generally speaking, MTSU had a good offense despite breaking in a new starting quarterback, but they struggled on defense.  They gave up 4.9 yards/carry and 194.0 rushing yards/game in 2019 along with 265.3 passing yards/game.  That came out to a total of 459.3 yards allowed/game.
Yeah.  That is a lot.

As we said on the podcast, QB Asher O'Hara is the whole show.  Last year, O'Hara went 210/335 passing (62.7%) for 2,616 yards and 20 touchdowns against just 8 interceptions, and that's great, but he also took a whopping 22 sacks.  O'Hara also led his team in rushing with 199 carries for 1,044 yards (5.2 yards/carry) and 9 additional touchdowns.  By way of comparison, the next closest guy on the team had just 52 carries total.  That is insane.
As you might expect, MTSU runs a spread set with a lot of run/pass options.  Assuming the Blue Raiders can find a new number one wide receiver to replace last year's touchdown record-setter Ty Lee, they ought to be deadly down the field.  O'Hara's running makes it tough to drop back against the pass, especially since the read-option elements of this offense force defenses to defend the full width of the field, too.  However, Lee was a unique athlete; he's not the kind of guy one can necessarily replace with just "the next man up".
MTSU returns some experience in their back seven, but they've got a lot of new guys along their D-Line, and that's tough.  It's tough because this has been a weird offseason, because their opening week schedule changed three times over the summer, and because they're playing a triple-option team for the first time in a very long time.  Maybe they adapt and overcome, but that's not an easy ask coming into Michie Stadium for the opener, especially when you've got just one veteran in the trenches on defense.
Weekly Press Conference: Week 01 at Army https://t.co/3wYYzfG0E5

— Middle Tennessee FB (@MT_FB) August 31, 2020
Key Match-Ups
This is not complicated, but that doesn't mean it will be easy.
Army O-Line vs. MTSU D-Line.  Army has an overwhelming experience advantage here to go with an experienced quarterback who's comfortable running inside.  Expect a very heavy dose of the Midline Option and the Inside Veer.  Basically, we think the Black Knights are gonna run right at these guys.
If that works, the Blue Raiders are looking at a long day on defense.  In past years, Army has been able to gash teams that give up nearly 200 yards/game on the ground, and indeed, MTSU gave up a whopping 225 rushing yards/game on the road last year.  The Black Knights must make that work to their advantage.
Army Linebackers vs. QB Asher O'Hara.  If O'Hara can move the chains consistently with his legs, then this game is gonna be a straight shootout.  If, however, Army's linebackers and safeties can force him to distribute the football, then sure, maybe MTSU hits some chunk plays, but they won't be able to sustain the kind of consistent offense that lets teams hang around with the triple-option. MTSU's offense was explosive but inconsistent last season, and often had trouble scoring in the red zone.  Slowing O'Hara on the ground will force the issue for a team that's been in transition all summer.
Alas, Army has struggled in past years with running quarterbacks.  We may see that again on Saturday.  If that happens, then this game will be a nailbiter.
Staying healthy.#GoArmy pic.twitter.com/QOtwNi03TU

— Army Football (@ArmyWP_Football) September 1, 2020
Final Thoughts
Honestly, I'm just happy to be here.  I'm happy that there's football this weekend, and that my team is playing.  I'm happy that these games count.  That wasn't a given as recently as a month ago.
The Black Knights opened as a five-point home favorite, but the line has fallen to just Army (-3), though vig is leaning back towards the Black Knights.  The Over/Under currently sits at 55.5, which is insane.  The Corps of Cadets will be in attendance, but no other fans will be there, nor will we see Rabble Rousers or mules or hear the firing of the cannons.  I'm honestly not sure how mules or cannons contribute to coronavirus, but hey, at least the Corps will be in the stands.
For what it's worth, ESPN's Football Power Index has MTSU as the second-worst team in Conference USA.  I find that hard to believe, but if we were going strictly by computer power rankings, Army would be favored by nearly two touchdowns.  I think the Black Knights win, and judging by the FCS opener last weekend, I wouldn't be surprised to see a sloppy game overall.  However, I think this one is close, with the winner being the team that best limits its mistakes.
Final scrimmage. The real thing a week from today. #GoArmy pic.twitter.com/KcsKjwwCxq

— Army Football (@ArmyWP_Football) August 29, 2020
Weather this weekend should be sunny with a high in the upper-70s, low humidity, and wind between five to ten miles/hour.  A perfect day to be at Michie Stadium.  Like most games this season, kickoff is scheduled for 1:30 pm.  CBS Sports has the coverage.  That means Ross Tucker, Ben Holden, and Tina Cervasio have the call.
Go Army!  Beat MTSU!!!