Take a deep breath. Coach is staying, and all eyes are on September 4th. So let's get into the 3rd quarter!
Also: The Black Knights finished off spring practice with the Black and Gold Game last week. Team Black beat Team Gold by 2!
Team Black takes down Team Gold in the 2021 Spring Game! #GoArmy | #LastoftheHard pic.twitter.com/k3zikptXc6

— Army Football (@ArmyWP_Football) May 1, 2021
Note: Preseason SP+ rankings are given below in parentheses, along with adjusted points away from the mean.  These are used to set betting lines.  SP+ has Army at #72 (-0.6), meaning that they'd be a half-point underdog to an "average" college football team on a neutral site.  With 130 teams in FBS college football, the "average" in this case is a purely mathematical construct, but the rankings are still an occasionally useful metric as part of a discussion of preseason expectations.
Third Quarter
October 23rd – Wake Forest (SP+ #64, +2.5)
Demon Deacon Head Coach Dave Clawson led Wake Forest to four consecutive winning seasons between 2016 and 2019. The last time that happened? 1945 to 1948, back when Wake was a member of the now-FCS Southern Conference. Alas, Wake's winning streak ended during the 2020 campaign when they lost to Wisconsin in the Duke's Mayo Bowl, cementing a 4-5 record overall.
Last year, the Deacons put up prolific offense, scoring 36 points per game on more than 440 offensive yards. They were a top 30 offense by almost every metric. Unfortunately for Army, nearly every offensive starter is returning. Starting QB Sam Hartman, top WRs Jaquarii Roberson and Donavon Greene, and top RB Christian Beal-Smith are all back.
Army's defense will definitely have their work cut out for them.
The good news is that Wake Forest scored all those points on 13+ drives per game. Army's opponents averaged under 11 last year. So if the Black Knights can keep the possession count down, they will have a much smaller hill to climb offensively.
On defense, Wake is far from a top 30 team. They gave up nearly 33 points per game last year and allowed more than 435 yards. Worse, their rushing defense was just not good, ranking 87th in FBS college football while allowing nearly 185 rushing yards per game. To adjust, the Deacons have put a particular emphasis on improving their D-Line.1 It's worth noting as well that Wake Forest probably has more triple-option experience than anyone else Army plays besides Navy and Air Force. Clawson has faced Army three times during his tenure and has faced Paul Johnson's Georgia Tech once. However, Wake DC Lyle Hemphill has not yet seen an FBS triple option.
??? ???.
?? ??????.#GoDeacs ? pic.twitter.com/iv2UtVwR2U

— Wake Forest Football (@WakeFB) April 23, 2021
November 6th – Air Force (SP+ #93, -6.3)
Both Army and Air Force have a bye week to prepare for this particular Commander-in-Chief's Trophy match-up. Air Force will play Navy in Annapolis on September 11th this year, so we'll know the results of that game a month earlier than usual.  Whether that hurts or helps is an open question, but if Air Force does win in September, then an Army win in November would result in Army, at a minimum, retaining the CiC at West Point.
But Army wants to win the CiC outright, of course.
For the first time in recent memory, this year's Army-Air Force will be at a neutral site.  This year's contest will be played in Arlington, TX, at the Texas Rangers' new stadium, Globe Life Field. It's a shame in some ways that we wound up in a baseball stadium, but putting the game in Texas can only help the Black Knights, especially since Globe Life Field is a relatively short drive from Houston, home to no less than 10% of the West Point Association of Graduates. Indeed, if rumors of flagging Zoomie ticket sales prove true, the atmosphere in this one might just prove home field friendly to the Black Knights. In any event, the game itself ought to be a unique experience for Army fans overall.
Air Force did not have a spring game, so it's hard to know exactly how they're progressing. Offensively, here's what we know. QB Haaziq Daniels, leading A-Back Brandon Lewis, and leading B-Back Brad Roberts will all be back, along with leading WR Kyle Patterson.2 While this offense only produced 24 points per game last year, they were plenty explosive at times, and in any event, a year's experience can only help. Certainly, they gave the Black Knights all they could handle last year.
The Falcon's defense remains something of a mystery. Last year, Air Force sent a sizable portion of cadets home on administrative leave, mostly off their defense.4  This looked like a good move initially, especially given that the Mountain West had cancelled their season while the NCAA extended player eligibility. But then the Mountain West came back, leaving Air Force to fight shorthanded during their shortened season. Now the Zoomies have a mixed bag of returning players on defense, some of whom haven't seen the field since 2019. Certainly, some of those kids have talent, but until we see more, the results of this particular experiment remain a question mark.
✈️✈️✈️ #LetsFly pic.twitter.com/LPyrO4z4b5

— Air Force Football (@AF_Football) April 30, 2021
November 13th – Bucknell (FCS, #234/257 by Sagarin)
This should be the easiest game Army plays this year. Not only is Bucknell an FCS team, they're not even a particularly good FCS team. After the cancellation of the FCS fall football schedule, the Bison went 2-2 in Patriot League play this past spring. Somehow, that was enough to get them all the way to the Patriot League Championship, where they lost to Holy Cross, 33-10.5 Despite their championship appearance, the Sagarin computer rankings still consider the Bison to be a Bottom 30 team in overall Divison 1 college football.6
We won't know much about returning players for a while. The Bison roster has barely gotten a chance to breathe since their season ended. Starting QB Logan Bitikofer is a senior, but he could return under the NCAA's eligibility extension. The question is more what Bitikofer and his teammates want going forward. The Patriot League emphasizes academics first by design, and few Bison players are likely to have NFL aspirations. These guys might opt to graduate and get on with their lives.
The Bison defense held their four Patriot League opponents to less than 20 points per game this spring, but their offense frequently struggled to reach the 20-mark themselves. Army ought to be able to make that work. Here's hoping next year's plebes wind up doing a lot of push-ups on November 13th.
We'll be back.#ACT | #rayBucknell pic.twitter.com/B7AHuRnwxG

— Bucknell Football (@Bucknell_FB) April 18, 2021
Third Quarter Expectations
I have serious doubts about Army's chances of being ranked in the final AP Poll if they drop back-to-back games to Wisconsin and Wake Forest. With the way AP voters operate, Army likely needs to win out following the Wisconsin game unless they can pull out a win in Madison.
Bottom Line: if this year is going to be special for Army, they have to go 3-0 in this quarter. A disciplined team has the potential to do that.
If the lines were set today, Army would likely be underdogs to Wake Forest by somewhere between a field goal and a touchdown. They would be favored over Air Force and heavily favored against Bucknell. Thus, winning these three certainly isn't out of the question. If Army becomes bowl eligible in this quarter, fans should expect an above average year. If they struggle through this section, though, the Black Knights might wind up hoping for a CiC/Navy win to save a somewhat disappointing season.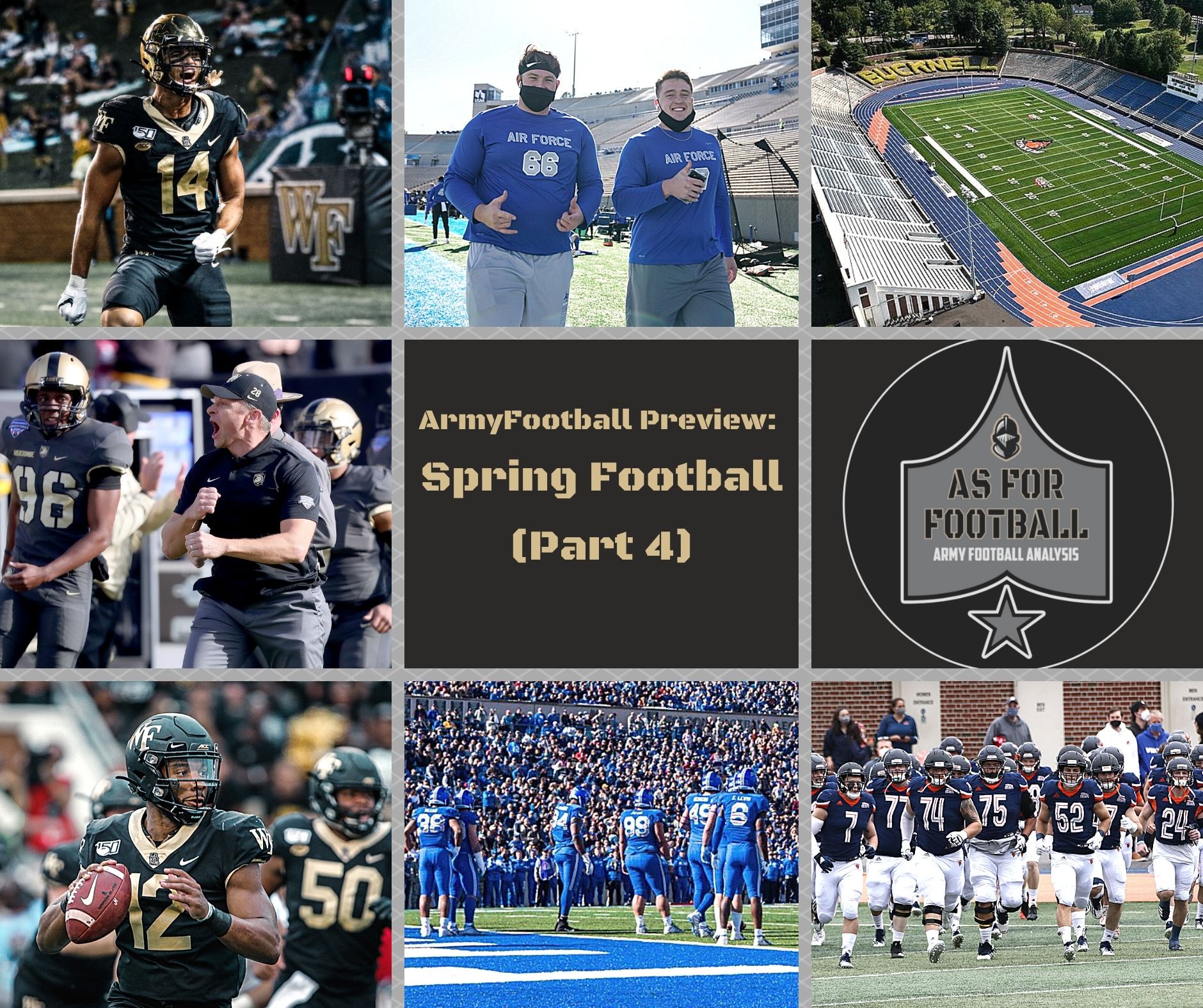 Works Cited
1. Matthew Brune, "Wake Forest football's offseason checklist," 247Sports.Com, April 17, 2021.
2. "Falcon Positional Unit: Previewing the Quarterbacks," SBNation.
3. Brent Briggeman, "Turnbacks will leave Air Force football missing majority of the defense as games approach," Colorado Springs Gazette.
4. Jeff Sagarin. "College Football Ratings," USA Today.
?️"The most physical spring game in the country, hands down."

????, ???? ??? ????????, the only way the #LastoftheHard know how to ball #GoArmy pic.twitter.com/uVLTI3dziF

— Army Football (@ArmyWP_Football) May 2, 2021
Go Army!  Beat Georgia State!!!
* Cover image via Danny Wild (Facebook).