We're heading into the home stretch of our spring football preview, and with it comes the most speculative parts of our coverage.  Spring football successes or failures may well impact summer preparations and perhaps even early season games.  By the time we get into November, though, we'll have a lot more information by which to gauge each of these teams.  
Added to that is the fact that at least two of these teams head into the season as legitimate unknowns.  We feel pretty good about saying that Liberty will find success in 2021.  However, UMass and Navy both have a pretty wide range of potential outcomes.  I'd like to see them play before we make any predictions.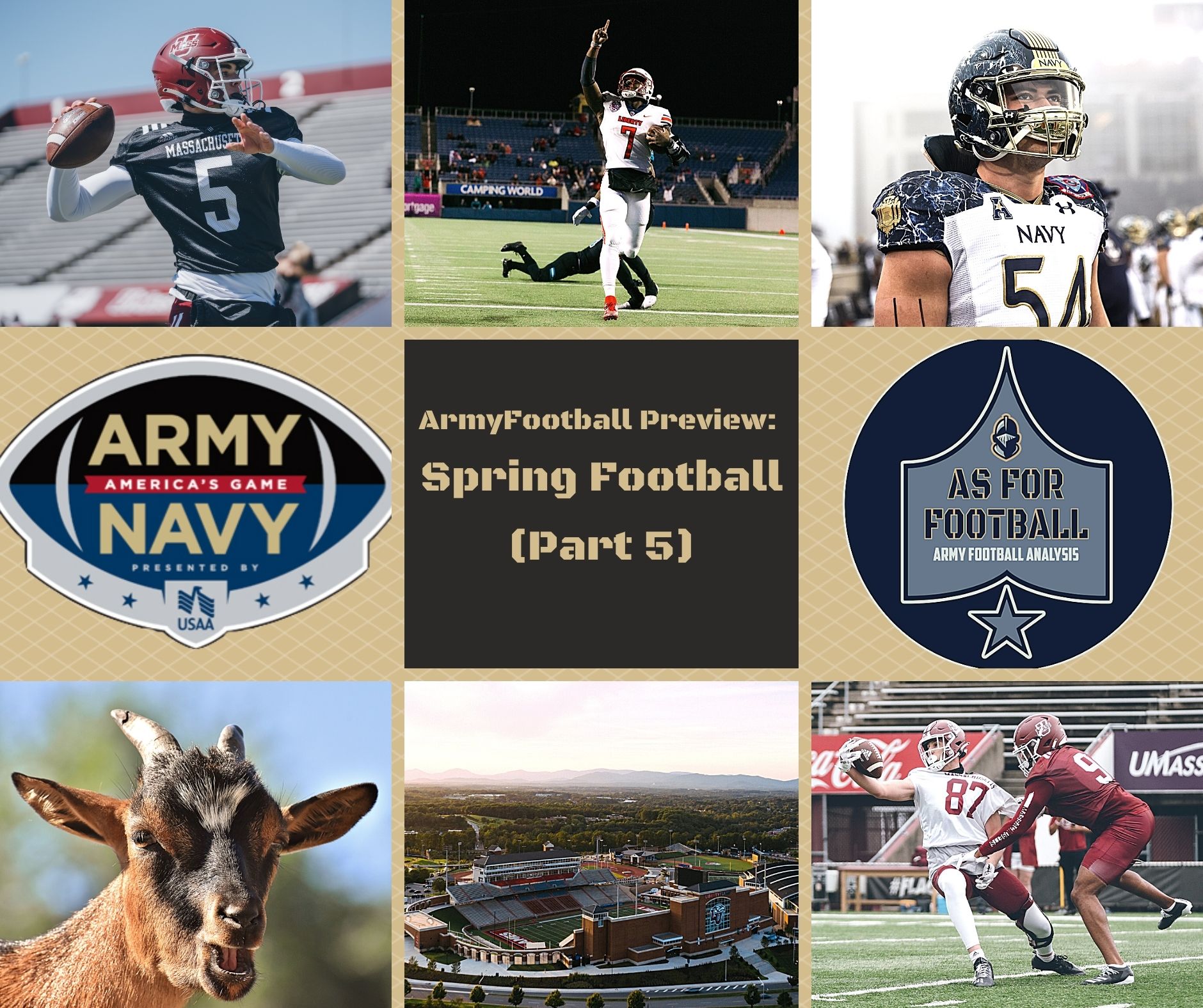 If you missed any of our previous spring football coverage, those articles are archived below:
 — Part 1: Army
— Part 2: First Quarter (Georgia State, WKU, UConn)
— Part 3: Midwest Mayhem (Miami [Ohio], Ball State, Wisconsin)
— Part 4: Zoomie Season (Wake Forest, Air Force, Bucknell)
Note: Preseason SP+ rankings are given below in parentheses, along with adjusted points away from the mean.  These are used to set betting lines.  SP+ has Army at #72 (-0.6), meaning that they'd be a half-point underdog to an "average" college football team on a neutral site.  With 130 teams in FBS college football, the "average" in this case is a purely mathematical construct, but the rankings are still an occasionally useful metric as part of a discussion of preseason expectations.
A clash of strength and determination ? ?#GoArmy | #LastoftheHard pic.twitter.com/IirDDbQQu8

— Army Football (@ArmyWP_Football) May 6, 2021
Fourth Quarter
Nov. 20 – UMass Minutemen (SP+ 129, -24.9 )
Whatever the past few years have meant for UMass Football, the Minutemen are sincerely trying to put a quality spring football program together now.  Coach Walt Bell has the team practicing three times per week, while his strength and conditioning coaches work tirelessly in the weight room to get the guys ready for the coming season.  After two years of near total futility, that is at least a good start.
Granted, the Minutemen have a lot of work to do.  
UMass went 0-4 last year, putting up a whopping 12 total points in their shortened season, just 10 of which came on offense.  By comparison, they gave up fully 161 points in just four games, or more than 40 points per contest.  Last year's best game came against FAU, when UMass scored a safety while allowing — just — 24 points total.
UMass's spring game was a full offense vs. defense scrimmage, ostensibly won by the offense.  Current #1 QB Tyler Lytle went 5/10 passing for 77 yards and 2 touchdowns against 1 interception, though that one pick went for a touchdown in the other direction.  That particular pass was tipped at the line, so maybe it wasn't Lytle's fault.  In any event, Lytle outplayed his competition, who went a combined 5/16 passing for a whopping 35 yards.  Rutgers transfer RB Kay'Ron Adams led all rushers with 8 carries for 60 yards.
Even so, the Minutemen may actually win a few games this season.  They have Eastern Michigan at home on September 18, UConn at home on October 9, back-to-back FCS home games against Rhode Island and Maine in mid-November, and a road contest against SP+ cellar-dweller New Mexico State to close the season on November 27.  A bowl game is probably not in reach, but UMass should probably win at least three out of those five contests.  Those wins would represent a substantial step in the right direction.
?? "You've gotta have something that sets your unit apart…something you can hold your head up high and [use to] differentiate yourself within the team."@Coach_Segler chats with @Burnham_Jay on our approach in the tight ends room every day#Flagship? pic.twitter.com/FtjbdjtU3l

— UMass Football (@UMassFootball) May 6, 2021
Nov. 27 – at Liberty Flames (SP+ 42, +8.3)
If Wisconsin has a down year, then this game at Liberty in late November could yet become the hardest game on Army's schedule.  Oh, it's true.  The Flames finished 10-1 last year with wins over Western Kentucky, Syracuse, Southern Miss, Virginia Tech, and world-beating Coastal Carolina in the Camping World Bowl among others.  The Flames' sole loss came to NC State by a final score of 15-14.  So yeah, they were exactly one point away from a perfect season.
The most amazing thing about all of this?  Liberty returns 10 of its 11 starters on both sides of the ball.  Said Coach Hugh Freeze: "It's been a different spring for me when you evaluate the fact that we have pretty much everyone returning that played significant snaps for us last year.  We had some success with those kids, so it's now about making us deeper and better."
Yeah.  I guess so.
The Flames have a favorable upcoming schedule, too.  Their two Power 5 opponents are Ole Miss and Syracuse.  Beyond that, they see Troy, Old Dominion, Alabama-Birmingham, Middle Tennessee State, Louisiana-Monroe, North Texas, UMass, and Louisiana before their end-of-season showdown with Army.  They'll probably be favored in every game save Ole Miss and maybe Louisiana, depending on how the Ragin' Cajuns look down the stretch.  If Army turns out to be the only thing standing between Liberty and a perfect season, well, at least we know we'll get their best possible shot.
✨Dudley Award Finalist✨@malikwillisqb7 looks to be named the Top NCAA Football Player in Virginia.

?: https://t.co/yg0w6rdaaC pic.twitter.com/I4coJKgkKH

— Liberty Football (@LibertyFootball) April 22, 2021
Dec. 11 – Army-Navy (SP+ 100, -9.2)
The Mids finished last season 3-7, 3-4 in the American Athletic Conference.  Though their defense eventually rounded into form, their offense was so bad in 2020 that ESPN announcers were caught on a hot mic wondering openly what they Hell these Mids were thinking.  That is, of course, one of life's most imponderable questions.  Still, the view from many Army fans is that Navy has become increasingly reliant on getting transcendent play from their quarterbacks.  When they get it, they can be a handful, but when their quarterbacks are merely average — or even just above average — their entire offense seems to sort of splutter in place.
It's telling, then, that sophomore QB Tai Lavatai has closed the gap with last year's Army-Navy Game starter Xavier Arline on the depth chart, especially since Arline dumped lacrosse this season in order to focus exclusively on football.  Recall, Arline reportedly chose Navy expressly because the Mids promised him the opportunity to play both sports according to reports during the Army-Navy Game.  Now, well, here we are.  Lavatai is 6'2", 220 lbs. and reportedly a better passer, Arline looks headed for the bench, and Navy Lax was just eliminated from the Patriot League Tournament.
The lesson?  Never trust a recruiter, obviously.
Linebacker Diego Fagot was named a captain this spring, and yeah, as long as he's in the lineup, we expect Navy's defense to be at least pretty good.  In a season of disappointment, Fagot was the outstanding player in 2020.  Depending on how their offense looks, they might need him to be again.  The Mids will face Marshall, Air Force, Houston, UCF, SMU, Memphis, Cincinnati, Tulsa, and Notre Dame before settling into what we might call the "winnable" part of their schedule. Granted, not all of those teams will necessarily be world-beaters, but as of this writing, Navy ought to be favored in two or maybe three games this fall.  
A lot of Athletic Departments might've at least considered an FCS tune-up game before heading into that stretch, but the Mids are going straight "Mad Max: Fury Road".  Let's see how that plays out for them.  As we noted when Coach Monken was considering Kansas, it's a fine line between proving the haters wrong and willingly walking into an ambush.
Meet our 2021 Season Team Captains!! #BuiltDifferent pic.twitter.com/8FNq8yhAM5

— Navy Football (@NavyFB) May 4, 2021
Expectations
We've got a lot of football to play between now and November.  The AFF Crew feels good about the UMass game, but beyond that, it's a little hard to make predictions.  If Army's offense comes around while their defense continues to perform, then yeah, this could absolutely be a special season.  Certainly, there are enough challenges on the schedule.  Army has a shot at showing exactly how good they can be.  
But let's see these guys play a few games first.  Guessing outcomes this far out is a fool's errand.
Congrats to former @ArmyWP_Football player Alejandro Villanueva on signing with the @Ravens !#LastOfTheHard | #NCOT | #BEATnavy! | #22Brothers pic.twitter.com/UWUmUM33VF

— Army FB Recruiting (@ArmyFB_Recruit) May 5, 2021
Go Army!  Beat Georgia State!!!
* Cover image via @CBSSportsHQ.