Well friends, that was a wild one. Army won, and I got to see a bunch of my classmates and meet a bunch of cadets, and all of that was truly awesome. Candidly, though, I did not mean to live it up quite that hard.
I doubt the Army Team did either. Up three scores in the fourth quarter, it looked like the Black Knights were about to put this game on ice. But, y'know, sometimes the other guys make plays, too, and as we said on the podcast, the Black Knights were gonna find themselves in a shootout this week if they struggled to get pressure on the quarterback.
The good news is that Army won that shootout.
That's 11-straight Ws at Michie Stadium‼️

2-0 in 2021✅#GoArmy | #LastoftheHard pic.twitter.com/t3tPMftgiQ

— Army Football (@ArmyWP_Football) September 11, 2021
Let's take a moment to appreciate this victory. It tells us a lot about where this team is in 2021. This was not the kind of game that Army was winning, even when the Black Knights were winning 10+ games. Recall the last real wild west shootout came late in the season at North Texas way back in 2017, and that one ended with a bad-looking Army loss. This time, though, the team made the plays they needed to make when the opportunities were available. This was an impressive win, but the most impressive part about it was that they didn't squander those critical moments early. That let them build up the lead they needed in order to hang on down the stretch.
And look, Western Kentucky has a good team. They know it, too, which is part of why they got so salty there at the end.
The day opened for me at my buddy's tailgate up in the lots. At first it was just the six of us, but by the time we were ready to head into the stadium, it seemed like everybody in the lots had stopped by to at least say hi and get a sticker. That was awesome. But honestly, we partied pretty hard, which made me even more susceptible to the sun than normal.
That would come into play later, alas. In the moment, it was a riot.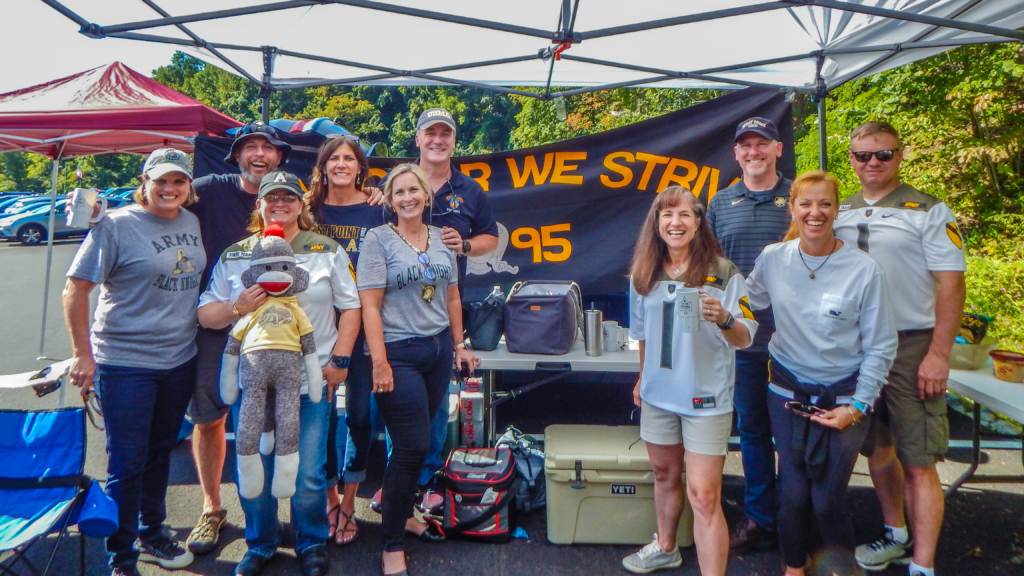 Army deferred, got an interception early, fumbled, forced a critical turnover on downs, and then finally drove the length of the field and scored early in the second quarter. From there, they sort of had their way with things through the middle portion of the game, eventually getting up 35-14 with just over ten minutes left to play. Army's offense dominated, rushing for 339 total yards and a whopping 5.1 yards/carry. They threw well, too, converting multiple long third downs and one fourth-and-seven through the air!
But man, WKU QB Bailey Zappe had been making his share of plays all afternoon, and once we got into go-time, he found another gear. WKU's offensive line stiffened in pass protection, just as the afternoon sun and the Hilltoppers' offense both started wearing at Army's pass rush. Zappe made play after play in the hurry up, finishing with an otherworldly stat line — 28/40 passing (70.0%) for 435 yards, 3 touchdowns, and that 1 critical interception. It helped that the ref's missed more than a few holding calls, some so egregious that they had us yelling from the stands. Mostly, though, WKU made good use of the hurry-up, keeping Army's defense off-balance and tired just when things were starting to get interesting.
As noted, though, the Black Knights had done an excellent job taking advantage of their opportunities up to that point. They'd gotten Western Kentucky off the field twice on downs earlier in the game and forced 1 punt, and they'd turned all of those stops into seven points. This was critical. Zappe and company got hot late in the game, but by the time they started getting traction against the Army defense, there simply wasn't enough clock left to make up the massive deficit that Army's early play had put them in.
A lot of that fell to QB Christian Anderson. Anderson finished 5/6 passing (83.3%) for 77 yards and a touchdown. He also ran for 119 yards on just 22 carries (5.4 yards/carry) while operating the offense to perfection. OC Brent Davis let Anderson make any number of reads today, and he made them correctly, frequently picking up big yardage on keepers coming off the Midline Option. Army finished 9/13 on third down and 2/3 on fourth down. That gave them 416 yards of total offense and more than 40 minutes time-of-possession.
They needed every minute.
BIG time 3rd down conversion by the legs of Christian Anderson pic.twitter.com/eOso2y1Rnr

— CBS Sports Network (@CBSSportsNet) September 11, 2021
There's nothing wrong with any of that. Reality is that any college quarterback who can complete more than 60% of his passes is doing pretty well, and anyone who can complete more than 65% of his passes is truly outstanding. Bailey Zappe has completed 80% and 70% of his passes in back-to-back weeks. He was literally 25% better than the quarterback from Georgia State. This is not new. Zappe led all of college football in passing last year at FCS Houston Baptist. Are we really all that surprised that he's succeeding as a grad transfer in an offense built specifically to suit his strengths? We won't see that kind of accuracy again this season, and anyway, the Black Knights won this game.
I'm telling you. This was a good win against a good team.
This Army Team is legit.
Meanwhile, I too got softened up in the late summer sun. That sun had me poached like an egg by the middle of the fourth quarter. By the time we got into this game's final moments, I'd been cooked to bright red perfection. I look a little like Big Red, the Hilltoppers' mascot.
"We were tough enough, we played with great effort and we executed when we needed to."#GoArmy | #LastoftheHard pic.twitter.com/WjBXa4wc3M

— Army Football (@ArmyWP_Football) September 11, 2021
Next Up: the UConn Huskies
Air Force beat the Hell out of Navy in the first leg of the Commander-in-Chief's Trophy contest yesterday, leading to the firing of long-time Mids' OC Ivin Jasper. Neither team looked great, but the Squids were positively dreadful, putting up just 68 yards of total offense. Air Force managed 225 yards, including 176 on the ground — a relatively muscular result by comparison.
It'll be interesting to see where Navy goes from here. Nowhere good, if I had to guess. Navy's got a lot of problems right now, but I wouldn't have said that a lack of clever play-calling was nearly the worst of them. We'll talk a lot more about the other service academies on College Football Roundtable this week, so if you're into that, definitely check out our other show.
Meanwhile, the worst team in college football is coming to Michie Stadium on Saturday, and that's good because the injury bug bit kind of hard this week. We'll have to wait to see exactly how bad the injuries got, but it would be good if we could get some quality time with some of the backups in the coming contest. UConn is 0-3 with two FBS losses by more than 45 points, so that seems like it could happen. Here's hoping for some extended time from Jabari Laws at quarterback.
Great to be back in front our home crowd and earning the victory at Michie. #GoArmy | #LastoftheHard pic.twitter.com/DWt8l2XSeF

— Army Football (@ArmyWP_Football) September 12, 2021
Go Army!  Beat Connecticut!!!